It took us 12 seasons to achieve the ultimate F4Football prize, winning the Champions Cup in an all Dutch final beating our rivals Laag Zuthem.
A remarkable season that could end up in the books as one the best ever until now.
Project Nomis achieved a rare, close to perfect, season winning 51 matches (one through penalty shootout) with only Soccer Stars holding us off to a draw in the CC quarter-final.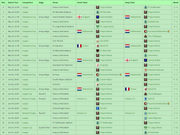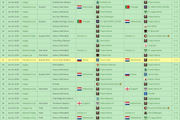 Besides this the current magical barrier of 80 rating got broken and 307 million (excluding transfers) income got generated.
But now the end is there for Project Nomis, starting season 16 the club will rebrand to AFC Nomis going forward and seek to continue the success that has been achieved recently.
The goal next season will be to defend the Champions Cup title and clinch the 5th domestic Dutch league title in a row with at long term goal to at least break the 6 year domination from Feyenoord during the season 5-10 era.
The only question will be how long can AFC Nomis maintain this level of quality on the pitch?
Good luck and more importantly have fun to all the managers and perhaps see you on the pitch next season! :)